Buy Windows 11 Pro in Nepal
Microsoft Windows 11 Pro Edition is ideal for those looking to complete their computer setup, as it offers a highly compatible and streamlined operating system. Microsoft Edge provides Internet protection, network protection, and simple Internet access, bringing you closer to your passions.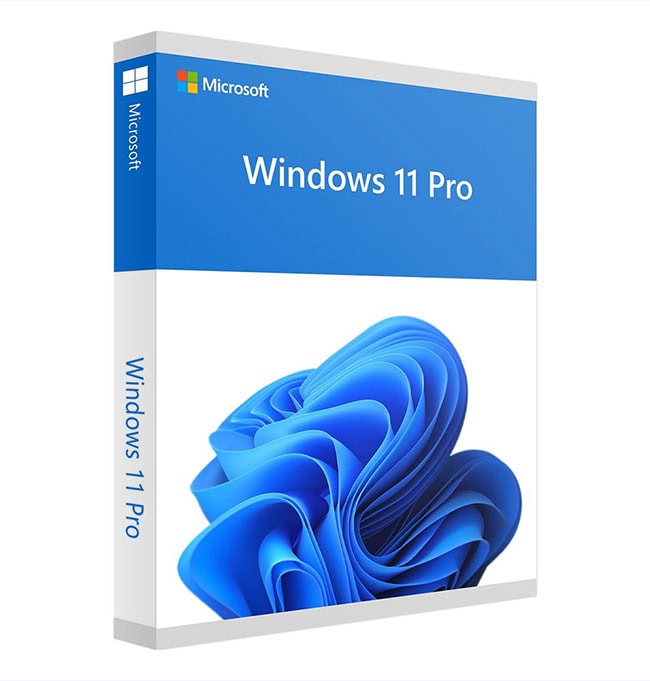 Windows 11 Pro
Windows 11 Pro contains many innovative new features that will fundamentally alter your Windows experience. The PC has always been the dominant gaming platform, and Microsoft is utilizing its Xbox expertise to improve PC gaming.
This Windows 11 operating system comes in a box on a USB flash-drive for quick installation.
It includes a perpetual/outright license of the Windows 11 Pro edition.
It can be installed on a single device.
It comes with security features such as firewall protection, password management, virus detection and blocking.
Windows 11 Pro
Buy or upgrade to Windows 11 Pro now.
Windows 11 Pro is the best operating system for your home computer. With a host of new features and improvements, it's the perfect option for anyone looking to get the most out of their PC. With Cortana, your assistant, you can easily keep track of your schedule, catch up on the news, and even control your home devices. And with new built-in apps like Photos and Maps, Windows 11 Pro makes it easy to stay connected and explore what's important to you. It builds on the features of Windows 10 with a new design that's both familiar and fresh. The Start menu is back, as is the digital assistant Cortana. There are many new features, such as Edge, a web browser designed for Windows 11 that makes browsing websites even faster and more accessible, and Xbox App, which lets you play games and share clips with your friends. So don't wait any longer – upgrade to Windows 11 Pro today!
Features of Windows 11 Pro
Windows Defender antivirus
The firewall and antivirus software is built into Windows 11 Pro. It's easy to use and automatically protects you from viruses and other types of malware, such as spyware. If you encounter a virus, the program will try to remove the problem with your consent. It also keeps itself updated to detect new viruses as they appear on the internet quickly. The firewall has additional features, such as filtering by program or IP address and scheduling when your device can access the internet.
Edge browser
The new Edge browser is an efficient web browser designed to limit memory usage. It uses a different rendering engine than Internet Explorer, which means websites load faster when using Edge. It can also read web pages aloud, has a built-in note mode that saves annotations directly to your PC, and lets you mark up web pages and text by drawing lines on the page with your mouse pointer.
Cortana
Cortana is Microsoft's assistant, making it easy for you to find information using natural language. It's very similar to Siri, with a few exceptions: Cortana is strongly associated with productivity and can help you with your calendar, email, and other things (like setting alarms and timers), while Siri is more entertaining and fun-focused.
Xbox App & Gaming
The Xbox app on Windows 11 Pro connects your gaming experience to your home computer. You can then use voice chat while playing and see what your friends are up to on their Xbox Live profiles. There's also an "Activity Feed" showing screenshots of recently completed game levels, how your friends are doing in the monthly challenges, or even if they've unlocked a new achievement. You can also record and share videos from the game with friends and the Xbox community to share your best moments!
Energy and battery saving
In Windows 11 Pro, you can choose which power mode you want to use when running on battery power. By default, when the device isn't connected to AC power, Windows goes into "battery saver mode," which helps you save energy and get the most out of your battery. There are three battery-saver options: optimize for battery life, maximize performance, or balance the two extremes.
Multitasking
Windows 11 Pro allows you to run multiple applications on the screen at the same time. This makes it easy to switch between different tasks with a glance or even use your PC and tablet for two things simultaneously! Try splitting the screen with Snapping, which lets you open a second app side-by-side in a floating window.
File History
Windows 11 Pro includes File History, which saves copies of your files and can be restored if they become corrupted or you accidentally lose them delete. The feature has little impact on system performance and allows converting an entire folder rather than individual files (however, system files are not backed up). You can browse previous versions of files on your PC or save them to an external hard drive.
Quick help
With this feature, you can ask friends, family, or even work colleagues for help with just one click if they are on the same network. You can transfer files simply by dragging and dropping, quickly connect to remote PCs via Virtual Private Networks (VPNs), and even allow your friend to control your PC remotely while you see their screen!
Professionalization
Windows 11 Pro lets you personalize everything on your PC. You can choose an image as the home or lock screen background, change the mouse pointer, or choose between different theme options (themes determine color schemes, sounds, and other visual features). You can change how notifications are displayed, select different screensavers, and choose default applications for specific tasks ( e.g., music or video player). Also, you can control which folders open in new windows when using File Explorer, personalize your Cortana settings, customize the Start menu to pin frequently used items (or the All apps list move), and much more!
System Requirements
Windows 11 Pro requires at least 1GB of RAM (2GB is recommended) and at least 16GB of available disk space. Supported processors: -Intel Core i3, Core i5 or Core i7 processor 7th generation (or newer); -AMD A9, A10 or FX 8350 equivalent processor or higher;
Enjoy all the benefits of Windows 11 Pro now.
Windows 11 Pro is a good choice for anyone looking to upgrade from Windows 7 or 8 and doesn't need the premium features of Windows 11 Professional. For serious gamers, video editors, and graphic designers, we recommend paying for Windows 11 Pro's additional features (like Bitlocker, Remote Desktop Connection, and BitLocker Drive Encryption). Time for faster startups, a familiar yet improved Start menu, and great new features like Cortana – Windows 11 Pro is the perfect upgrade for your PC.
Let's Get Started Your Project
Have a Question or Ready to grow your business today?