Buy Microsoft 365 Business Basic License
Microsoft 365 Business Basic includes more than Word, Excel, and PowerPoint. It combines industry-leading productivity applications with robust cloud services, device management, and smart security in a single, connected experience.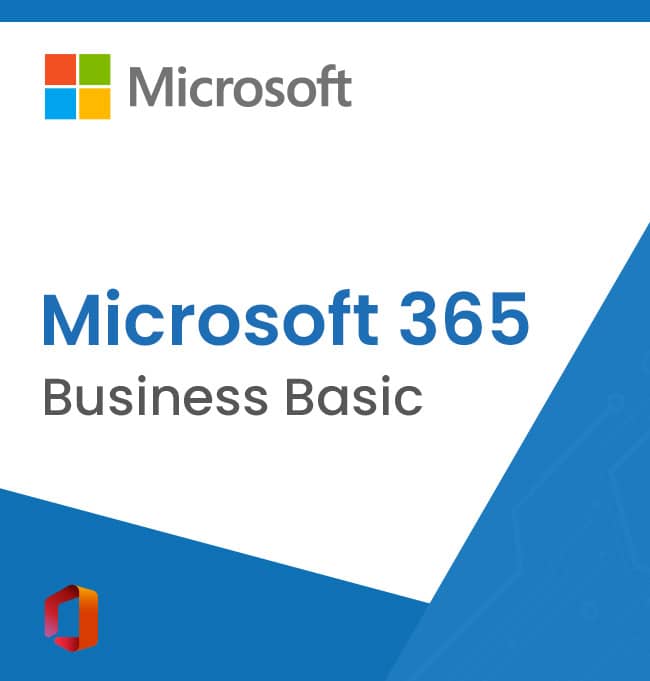 Microsoft 365 Business Basic
Microsoft 365 Business Basic is a new subscription plan for small businesses that includes the core applications of Office 365 Business and costs just $3 per user per month in Nepal. This plan is available starting today in select markets. This new subscription plan gives small companies the core applications they need to be productive at a price that fits their budget.
USD$3.00 /USD$6.00
Host professional email with a 50 GB mailbox.
Connect with your team members with Microsoft Teams.
Includes web versions of Office apps: Outlook, Word, Excel, PowerPoint, OneNote (Access and Publisher for PC only).
Get 1 TB of OneDrive cloud storage per user in Microsoft Business.
Make audio calls and host video conferences for up to 250 users.
Get 24*7 call and web support from Microsoft.
Microsoft 365 Business Basic
Microsoft 365 Business Basic is designed for small and medium-sized businesses. It is a cost-effective solution for organizations that want to empower employees with modern productivity tools while ensuring their data's security and compliance. Microsoft 365 Business Basic is a subscription-based service offered by Microsoft that provides a suite of productivity and collaboration tools for businesses.
Some of the key features of Microsoft 365 Business Basic include:
Email and calendaring: Business Basic includes a hosted email service with a custom domain name, 50 GB of mailbox storage, and the ability to schedule and manage appointments and meetings.
Office apps: Business Basic includes web-based versions of Microsoft Office apps like Word, Excel, and PowerPoint, which can access from any device with an internet connection.
Online storage and file sharing: Business Basic provides 1 TB of cloud storage through OneDrive for Business, allowing users to store and share files securely.
Teams: Microsoft Teams is included with Business Basic, providing a platform for team collaboration, chat, and video conferencing.
Security and compliance: Business Basic includes advanced security features like two-factor authentication, data encryption, and advanced threat protection, as well as compliance features like eDiscovery and legal hold.
Webtech Nepal is an Authorized Microsoft 365 Reseller / Partner / Cloud Solution Provider in Nepal. We Provide Microsoft Software License, Microsoft Cloud Setup and Support, Microsoft 365, Microsoft Office, and Other Microsoft Products. Webtech Nepal has helped companies and SMEs achieve a new level of real-time team collaboration using modern communication tools such as SharePoint Online, Skype for Business, OneDrive, Yammer, and others. We will assist you in migrating your business email to Microsoft 365, which protects your sensitive data under Microsoft Cloud Services.
Microsoft 365 for Business comes with email hosting, Microsoft program and app licensing, and a suite of collaboration tools to help your employees stay connected and work more efficiently. Microsoft 365 Business is a comprehensive, intelligent, and secure cloud-based solution, so there's no need for on-site maintenance or equipment.
We are a Microsoft partner in Nepal who offers a full suite of Microsoft solutions: Microsoft Office 365 Busines, Microsoft Dynamics 365, Modern Workplace, Microsoft PowerApps, and more. MS Office 365's collaboration, web conferencing, instant messaging, and email capabilities allow customers to use the most up-to-date productivity applications while lowering IT costs, giving you peace of mind. Check out the Microsoft 365 price in Nepal.
Let's Get Started Your Project
Have a Question or Ready to grow your business today?