How much does website development cost in Nepal?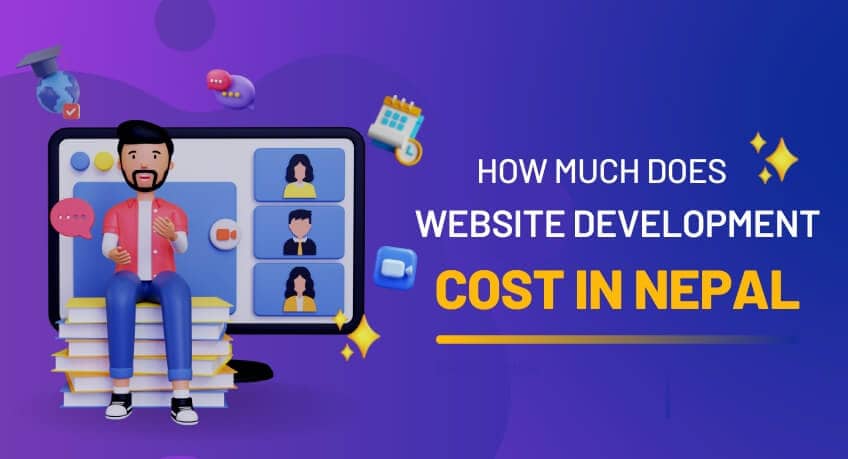 Website development cost in Nepal is an essential factor to consider when planning the launch of a new website. It is important to understand the factors that affect the cost of website development to make a well-informed decision. The primary factors affecting website development costs in Nepal are the type and complexity of the project, labor costs, and quality assurance procedures.
The type of website being developed plays a vital role in determining its overall cost. If a simple static one-page website is sufficient for your needs, it can be done at a much lower price than if you are building a complex eCommerce store with multiple pages, functionality, and features. Additionally, labor costs also need to be considered when budgeting for your project – if you choose to hire professionals from outside Nepal, their fees will add additional overhead costs to your total budget.
Overview: What is Website Development?
Website development is a term used to describe creating and maintaining a website. It involves web design, programming, content creation, search engine optimization (SEO), and other aspects of website management. Website development can be expensive for businesses, but it is also essential to reach potential customers and increase brand awareness.
To understand how much it will cost to develop a website in Nepal, one must consider the project's complexity. A simple static website with basic features such as a contact us page or blog may require fewer resources than a complex e-commerce site that needs payment gateways integrated into it. Once all aspects have been considered and the budget established, web developers can then estimate how much time and money will be required for the project.
Factors Affecting Cost
When it comes to website development costs in Nepal, many factors need to be taken into consideration. Understanding these factors can help you determine what kind of budget you should allocate for your project and how much you should expect the total costs to be. These factors include the project's complexity, the website's size and scope, additional tasks or customizations needed, and more.
The complexity of a website is one major factor that affects its overall development cost. A basic site with minimal functionality will be less expensive than an advanced e-commerce store or web application with integrated features like user registration and login forms, payment processing capabilities, search functions, etc. Additionally, any customization requests may also increase costs if they require additional coding or programming work.
What is the price of a one-page website?
Price range: between NPR 15,000 and NPR 30,000
This website has one page, sometimes known as a "landing page," where users are directed after clicking an advertisement or email link.
These "one-page" websites can have extensive and intricate pages, although they typically have little substance.
This kind of website has a straightforward objective: to persuade the user to make a purchase, sign up for an offer, complete a form, dial a number, or download a file. Every content on the website is meant to encourage the user to finish this job.
These sites typically require the slightest effort to construct because they provide a clear and distinct purpose.
This kind of website is also appropriate if you want to establish a professional internet presence to reassure your clients. Then, a business card, flyer, document header, or any offline source is used by your consumers to reach your website.
How much does a dynamic website cost?
Price range: between NPR 45,000 and NPR 80,000+
The most typical website for small enterprises is of this type.
Usually, there are no page limits. You'll find the following page kinds on these websites:
Homepage
About
Team
Mission/Vision
Services/Products
Appointment
Publications
Testimonials
Blog
Photo Gallery
Video Gallery
Contact
The website focuses on building the company's identity, marketing its services and goods, and providing details like directions or business hours.
Similar to the one-page website mentioned above, the goal is always to persuade the user to follow an income-generating lead.
How much does an E-commerce site cost?
Price range: between NPR 1,00,000 and NPR 5,00,000+
The cost of setting up an online store can be a significant barrier for entrepreneurs who are considering launching their own e-commerce business. With the range of services and software available, it can be challenging to know exactly how much you need to budget to get your store off the ground.
It could be a straightforward marketing website with an e-commerce feature to offer a few direct goods or services, as in Click and Collect. Using a program like WordPress WooCommerce to build an online store is more superficial.
These solutions work well when you have standard e-commerce requirements without a need for specialized features.
Average Costs in Nepal
When businesses in Nepal consider website development, they often want to know the cost. Building a successful website requires a combination of services and technology that can vary widely, making it difficult to provide an exact answer. However, understanding the average costs associated with website development in Nepal can help organizations make more informed decisions while building their online presence.
Most websites require web hosting services, a content management system (CMS), and design work to create the site's overall structure. The cost for these services can range from about NPR 45,000 for basic entry-level projects up to NPR 500000+ for more custom or complex initiatives. Additionally, ongoing maintenance and support fees typically add 10-15% of the total project costs each year after launch. Understanding these average costs is essential for any business planning to develop a website in Nepal.
Factors to Consider Before Developing a Website
Creating a website is essential for businesses looking to expand their reach and grow. However, before getting started, some factors need to be taken into account to ensure the website's success. In Nepal, several cost considerations must be weighed when developing a website. This article will discuss how much it costs to create a website in Nepal and what key factors should be considered before taking this significant step.
Cost is essential when considering any web development project, which is no different in Nepal. Depending on the complexity of the site, web development can range from as little as NPR 15,000 up to thousands of bucks for more complex websites with extra features. Businesses need to determine their budget constraints before starting any project so they can plan accordingly and work within their financial parameters.
Popular Platforms for Website Development
When it comes to website development, there are a variety of popular platforms to choose from. Knowing which is best suited for your project can take time and effort, especially if you're new to web development. The most popular platforms include WordPress, Joomla!, and Drupal – each with its strengths and weaknesses.
WordPress is the most popular platform of the three and has an easy-to-use interface that makes it ideal for those just starting out. It also has a massive library of plugins and themes, making customization relatively easy. However, while WordPress is user-friendly on the surface, it can be challenging to customize more complex features.
Joomla! is also popular among web developers due to its advanced content management system (CMS).
Conclusion
The bottom line is that website development costs in Nepal can vary greatly depending on the size and scope of the project. The complexity of the website, the number of pages, and the features required. Any additional services, such as SEO or digital marketing, will contribute to the overall cost. Even with a simple website, prices can range from a few hundred bucks to several thousand for full custom-built sites.
By understanding your needs and requirements before you start looking for quotes from a web development company, you'll be in a better position to find an experienced company that can help you build an effective website at an affordable price. Researching what's available in Nepal is also essential so that you know exactly what kind of services are available at each price point.