7 reasons to use Microsoft 365 for Business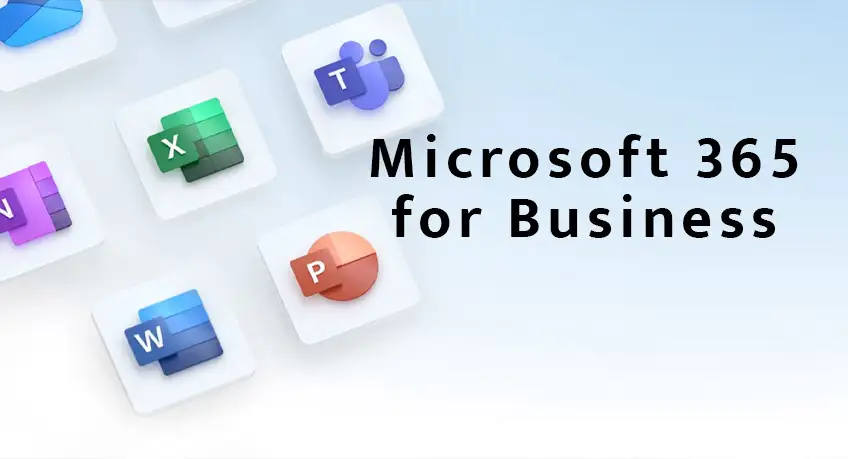 Microsoft 365 Business is a subscription-based version of Microsoft Office that includes classic tools such as Word, Excel, Outlook, Powerpoint, Microsoft Teams, Onedrive, and more. Microsoft 365 subscriptions come in various tiers to fit different needs, including corporate, personal, and family plans.
Microsoft 365 for Business adds new features to its old Office apps and gives you access to more recent programs, such as OneDrive. Even the most basic Microsoft 365 personal plan includes premium Word, Excel, and PowerPoint versions, whereas Office does not.
Advanced tools and features include Microsoft Editor, which helps you edit your writing; Microsoft Money in Excel, a financial planning tool; and OneDrive, Microsoft's online storage, enables real-time collaboration.
Obtain Files From Anywhere
With Office 365, your company may keep all of its files on the cloud. This means they may be accessed from any device with an internet connection, from any location. Accessing all of the apps and files you need when you're not in the Office is invaluable for companies that value mobile working.
Cloud Storage that is Safe
Unauthorized users can't access your files if they get on your device since Office 365 is a completely secure environment with strong security measures in place, such as two-factor authentication. Security threats are recognized and eliminated instantly using threat detection and anti-malware, which is especially crucial for dealing with confidential data or information. When you use Office 365, you can run your business without worrying about security.
Communication has improved
Users can utilize Office 365 to keep communication centralized and simple across Skype and Outlook. You can hold conference calls and meetings with employees and external agencies from anywhere in the world with Skype for Business, so you can always cooperate and communicate regardless of location or time difference. Teams have an instant messaging feature that allows users to contribute comments and upload files simultaneously, which is excellent for cross-departmental collaboration and document co-authoring. On Teams, you may also 'at' people so that they are notified when a comment is directed at them. All these features mean you can be in constant and immediate contact with teams and individuals wherever they are located and at any time. Yammer is another Office 365 service that functions as a form of social network for your company. You may instantaneously message your whole workforce by posting to your company's 'news feed,' and employees will receive an email reminder when a new post is made, ensuring that messages are not missed. Anyone can leave a comment on a post, and you can use Yammer to create several 'channels' for different purposes, so you don't have to post to the entire organization all of the time.
Predictable spending
Office 365 is billed per user, per month, similar to a subscription. The price of your licenses is determined by the degree of capability you select for your company. The cost of each license is determined by the multiple enterprise levels, which comprise different applications and products. Each month, paying per user ensures a consistent outlay and allows you to plan your IT budget for the coming year. Upgrades are already included in the price of your licenses, so there are no hidden expenses. If you purchase your licenses through Core, you can adjust the number of licenses you have at any moment, for example, if you employ or fire workers. You will never be over-licensed, and there will be no waste.
Continuity of Operations
Your business may continue to run normally even if there is a disaster at the workplace because files are kept in the cloud and backed up regularly. Your emails, files, and data are all safely kept on the cloud. Individual emails or entire inboxes can be restored using Exchange's recovery tools if necessary. If you're utilizing Office 365, it can be business as usual in any situation.
Upgrades are performed automatically.
All of the main apps, like Word, Excel, and Outlook, are included and may be used online without installing any software. Upgrades occur at specified times, so you don't have to worry about being on the most recent version; it will happen automatically. The cost of purchasing new software is also eliminated because updates are included in your Office 365 license subscription.
Centralized collaboration
Office 365 allows you to share mailboxes, calendars, contacts and modify documents in real-time through collaboration technologies. Sharing calendars in Exchange will enable you to know who in your company is available when allowing you to organize convenient meetings for everyone the first time. Multiple users can access the same inbox with shared mailboxes, so messages can be filtered to land in the shared mailbox and not be missed. Another essential tool for facilitating cooperation is SharePoint. Any staff member can access and work on documents saved here, and they can be shared through email as a link. Multiple users can simultaneously edit documents saved in SharePoint, making co-authoring simple. Thanks to little colored flags that identify each user, you can see who is in the document at any time and even where they're working.
Microsoft Word, PowerPoint, Excel, and OneNote are among the most popular Office 365. Office 365 offers an unrivaled breadth of services for any organization. The monthly subscription model for Office 365 allows businesses to purchase a plan appropriate for their size and number of users while continuing to operate as usual.
Conclusion
Microsoft 365 for business is available in a different package: Microsoft 365 Business Basic, Microsoft 365 Business Standard, and Microsoft 365 Business Premium. If you're having trouble deciding on a business plan, Microsoft Nepal Partner will help you figure out which one is ideal for you, and you may cancel before the one-month free trial finishes.